Running CommCon Virtual back in July was a real eye opener for me. I'd always been interested in the technical side of running events but I went to University, got into Coding and then started Nimble Ape - a RTC Consultancy specialising in Open Source WebRTC/VoIP and Web projects. But CommCon brought it all back - suddenly I was in the thick of "how to do remote participation at an event".
The way we did all the pre-production recordings for CommCon Virtual was with vMix using their WebRTC addition; well I say we... the AV company PSP did all the hard work. But even though we were using WebRTC to record the sessions for an RTC conference, something still tasted awful about the experience - how vMix does all the mixing - acting as an MCU which inherently means theres a delay in natural conversation between multiple people.
As the Pandemic continued, we've seen more and more conferences move online, along with national broadcasters seemingly open to publicizing a publicly traded company. All this talk of Zoom on national TV just didn't sit right with me and so I started thinking about what we in the RTC community could do about it all. Back in July my friends at Meetecho wrote about their NDI plugin for Janus and we got to work on improving it's capabilities as well as thinking about how to enable people to use it. Ultimately a demo became more of a platform and Broadcaster.vc was born.
---
So what is Broadcaster.vc? Ultimately it's a conferencing platform with Janus at it's heart and it's toes. This means you subscribe to Broadcaster.vc and use it as a meeting space for your participants who are involved in the publication of media - they get to talk to one another (or not if you choose that route) with millisecond latency, but with NDI feeds available for every single participant in a "room". We do that by running a docker image inside your network that magically connects to all of your "rooms" in the cloud and produces an NDI feed for every participant - no mixed audio like you get from Microsoft Teams or Skype, and video at the resolution that the sender is sending it at; meaning one of your publishers could be sending 480 and another could be sending 1080. But that's not all - you're not limited to one camera and one mic, you can screen-share and add in more cameras, and more mics as you see fit - they'll all just turn up as NDI feeds in whatever platform you're using.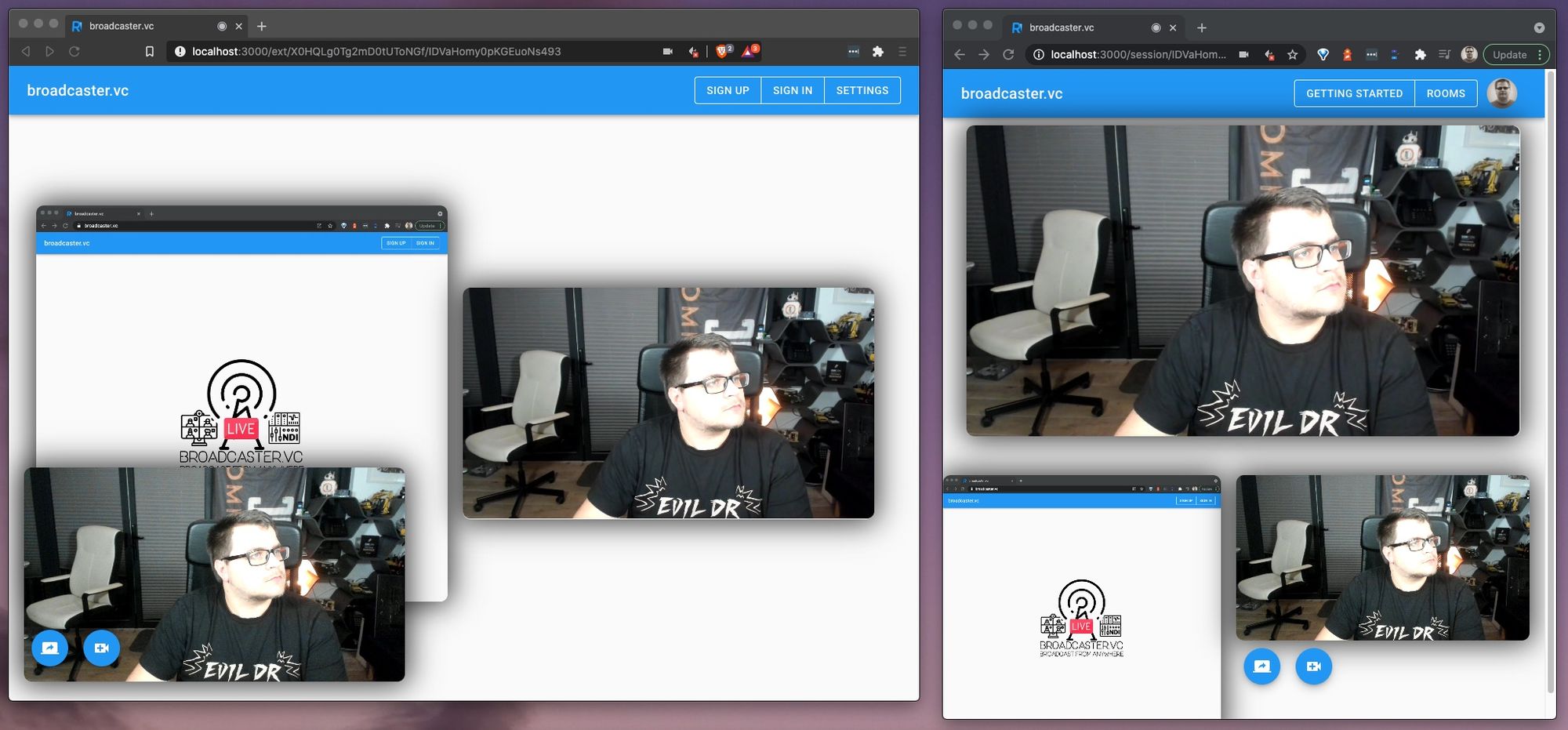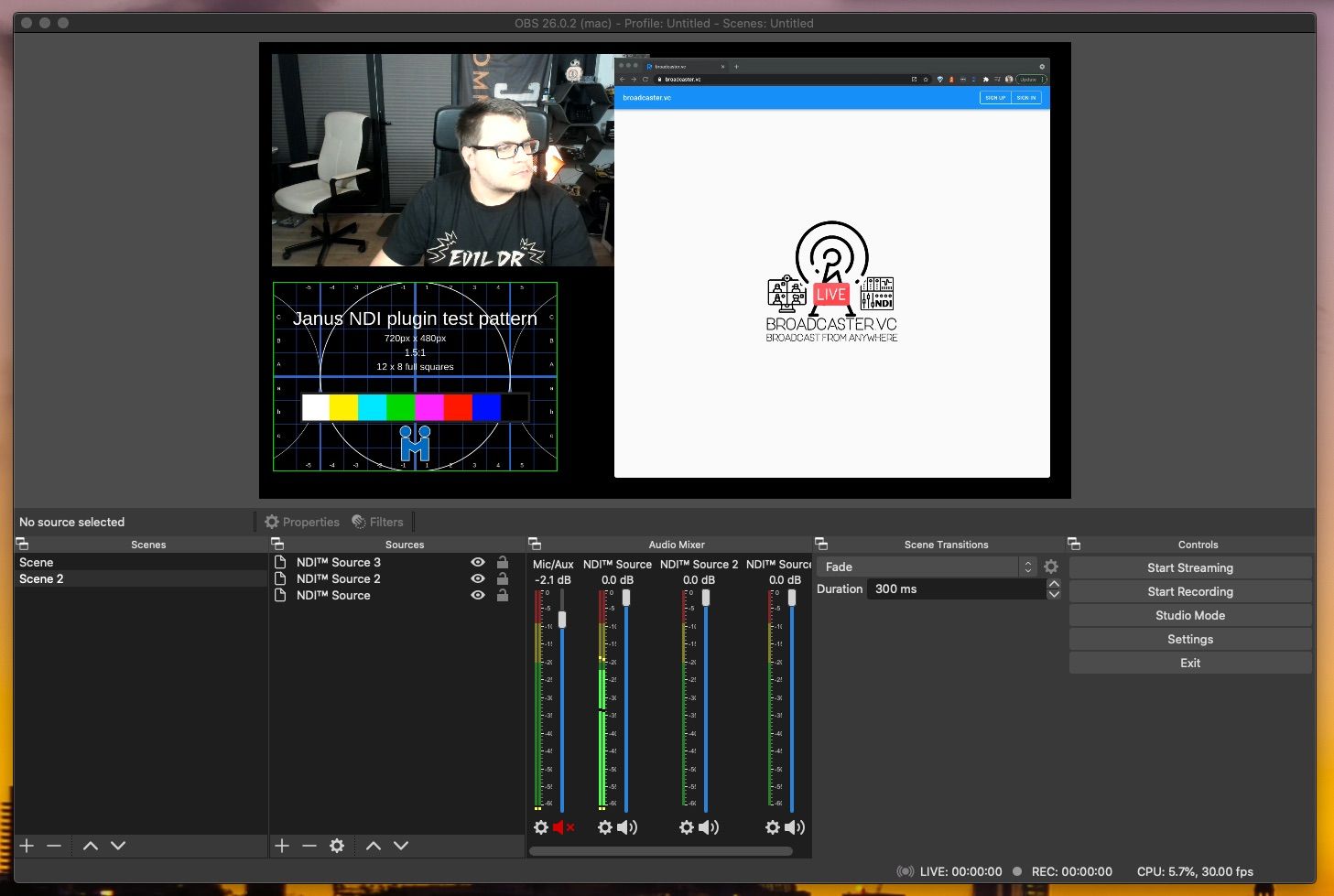 Now there's still work to do, but the core of the platform is now built and I wanted to see what kind of response there would be to it, what interest it gathers so here it is. Interested in knowing more? Send me an email at [email protected]
There's so much more to be said about the possibilities it's ridiculous - you can force your room to use the VP9 codec if you want to in order to get that better picture quality with stereo channels for production audio vs backstage audio as well as being able to selectively send specific published feeds to specific other users - imagine creating a special output mix from OBS/vMix and having that sent back to one of 5 of your publishers - the sky's the limit in what we can achieve with a platform entirely designed around Broadcasting media, rather than trying to make a conferencing service like Zoom/Teams/Skype/Whatever else fit the flows needed for running events.
We're excited about the possibilities. Let us know what you think! We'll hopefully open up registrations in the next week or so with some kind of subscription plan; but let us know if you're interested in what the platform could do for you - get in touch if you'd like a demo.
UPDATE - The self service demo/beta of the service is now available at https://broadcaster.vc with all feedback welcomed at [email protected]